Meet The Team
Shobna Vasishta, National SHARE Programme Manager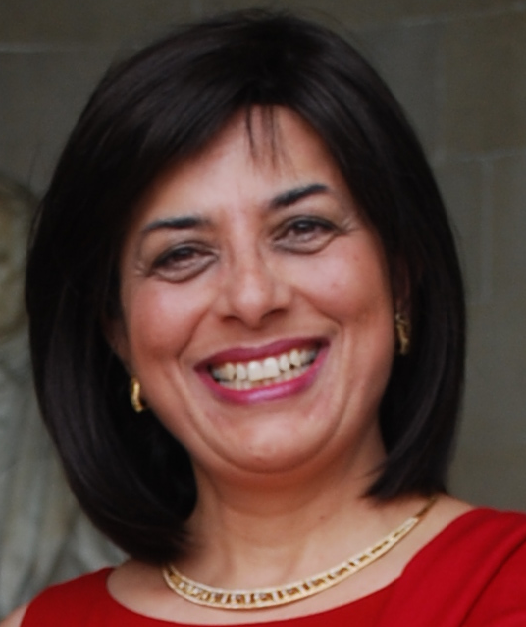 Shobna gained a BSc in Pharmacology from Surrey University, and has worked with various Pharmaceutical companies, such as MSD, GSK, SKB, Sanofi and Novo Nordisk, for 25 years. The last 12 years have been spent project managing clinical trials within the University of Dundee, and currently Shobna is the National Programme manager for SHARE. Her spare time is spent in raising funds for various charities, especially the TICR Appeal for which she raised over £8 million (www.ticrappeal.com).
Professor Colin Palmer, SHARE director
Professor Palmer earned a BSc in Genetics from Glasgow University in 1985 and a PhD in Molecular Toxicology from the University of London in 1991. He has recently been elected as a Fellow of the Royal Society of Edinburgh (FRSE). He worked at the Scripps Research Institute in La Jolla, California from 1991 to 1995, and joined the laboratory of Professor Roland Wolf at the Biomedical Research Centre in Ninewells Hospital in 1995. In 1998, Professor Palmer established his own laboratory at the Biomedical Research Centre, as a Principal Investigator and lecturer. Professor Palmer was appointed to the Personal Chair of Pharmacogenomics in 2008.
His lab specializes in population genetic research and has research projects studying the genetic basis for susceptibility to common diseases such as type 2 diabetes, heart disease, asthma and cancer. Professor Palmer has published over 200 papers in top journals and these have been cited by over 15,000 other studies worldwide. Professor Palmer is Director of the Tayside Bioresource which has recruited over 10% of the Tayside population (60,000 individuals) to genetic studies (http://medicine.dundee.ac.uk/tayside-bioresource).
Professor Brian McKinstry, SHARE Director
Professor of Primary Care E-Health, University of Edinburgh and NHS Lothian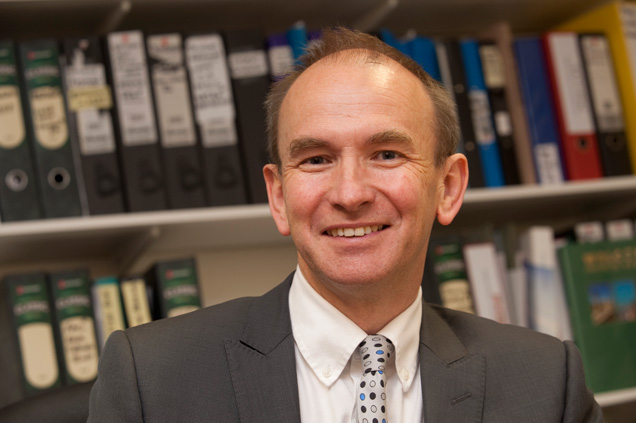 Professor McKinstry has been a GP since 1983. A former Associate Dean for Medical Educational Research in NHS Education, he was appointed as a senior research fellow in primary care research in 2006 and Professor of Primary Care eHealth in 2011. He currently leads the Edinburgh Health Services Research Unit.
His research interests include a longstanding interest in how doctors consult with patients and he has carried out controlled trials and studies into telephone consulting and telehealthcare These studies include the management of chronic obstructive airways disease, heart failure, high blood pressure and diabetes.
Professor McKinstry has written extensively in biomedical journals on a number of different types of primary care research and is an editor for Biomedcentral Family Practice and The Cochrane Consumers and Communication Group.
Professor Frank Sullivan SHARE Director

Professor Sullivan has been an academic GP since 1984. From March 1998 until February 2014 he was the NHS Tayside professor of R&D in General Practice and Primary Care. In the seven years before moving to Toronto he was the director of Dundee's Health Informatics Centre and the clinical director of the Scottish School of Primary Care. From 2014-17 he was the inaugural Gordon F. Cheesbrough Research Chair at North York General Hospital and director of the University of Toronto's Practice Based Research Network: UTOPIAN. He was appointed as the Professor of Primary Care Medicine in the University of St. Andrews in 2017. He is an honorary professor in the University of Dundee, the Department of Family & Community Medicine and Dalla Lana School of Public Health, University of Toronto and an Adjunct Scientist in the Institute for Clinical Evaluative Sciences (ICES), Ontario .
His research interests lie mainly in health informatics and community based trials, covering the spectrum from record-linkage of electronic health records to decision support to the evaluation of complex interventions. Professor Sullivan has published widely on a number of different types of primary care research, notably in the early detection of cancer and the management of diabetes and Bell's palsy. He was elected a Fellow of the Royal Society of Edinburgh in 2011.
Dr Roma Armstrong, West Node SHARE Co-ordinator
Senior R&D Manager, NHSGGC

Lead for experimental and translational research. This included acting as professional secretariat for Biomedical &Therapeutic Research Committee, leading strategic initiatives e.g. Generation Scotland and managing sizeable research portfolios on cancer and cardio/cerebral-vascular disease.
Dr John Haughney, West Node SHARE Primary Care Co-ordinator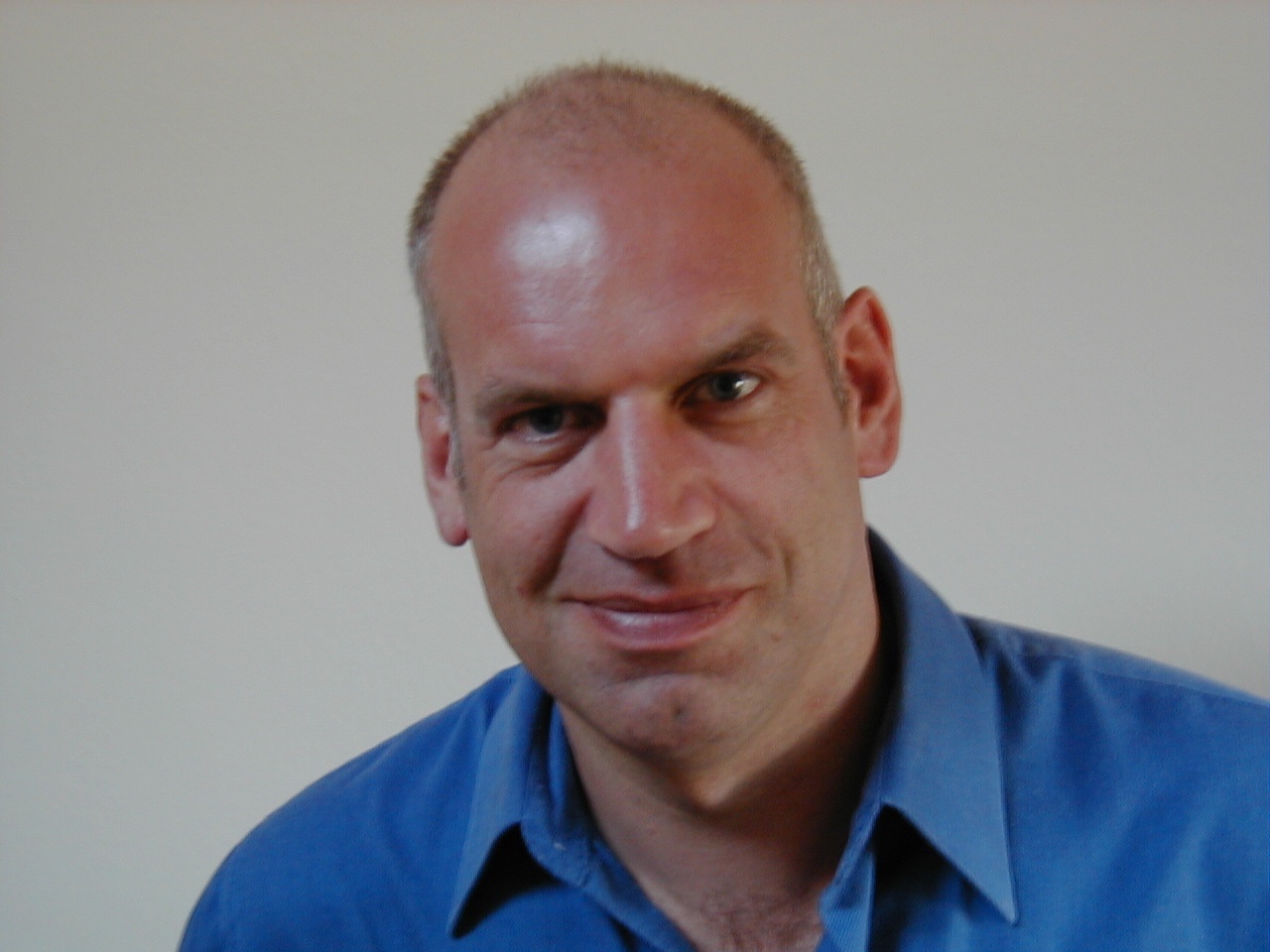 Dr John Haughney is GP Director of the NHS Clinical Research Facilities in Glasgow, a sessional general practitioner and hospital practitioner, a past-president of the International Primary Care Respiratory Group and a former Chair of the GPIAG (PCRS (UK)). He holds academic positions at both the University of Glasgow and the University of Aberdeen.
John's personal principal interest is the delivery of effective, consistent care for patients with common respiratory diseases in the community; he has been involved in the British guidelines for asthma and for cough, led the Quality Improvement Scotland group developing standards for the children's asthma care, was the clinical adviser (respiratory) to QIS, launching and helping implement standards for COPD in Scotland.
Away from work, he runs a taxi service for his family at weekends, provides them with indescribably large sums of money and is on a permanent, but unsuccessful, diet.
Dr Sam Philip, North Node SHARE Co-ordinator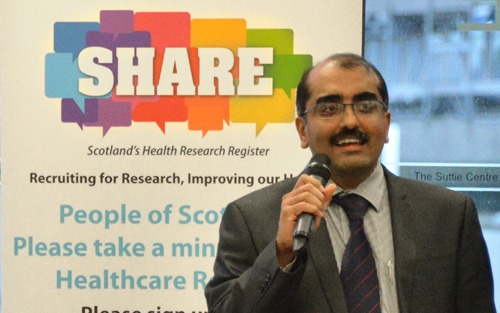 Dr Sam Philip is currently working as a Consultant Physician in the department of Diabetes and Endocrinology and as an honorary senior lecturer in biomedical physics at the University of Aberdeen. His research interests include health informatics, clinical trials, epidemiology and diabetic retinopathy. He is leading the development of tele-consultation service for people with diabetes in Orkney and Shetland. He has a strong interest in the development of information based technologies to support self-care in people with diabetes.
Dr Louise Dow, SHARE Studies Coordinator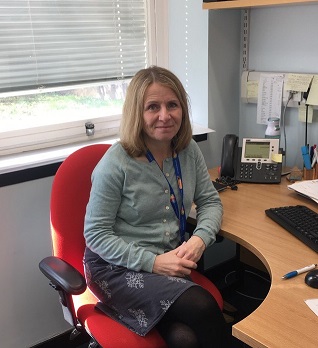 Louise graduated with a PhD in microbiology from the University of Dundee, and has pursued a career in sales and training with the biomedical products sector. She joined SHARE in 2014 and is responsible for coordinating the SHARE study applications and recruitment to studies.
Dr Daniella Cavellini, SHARE administrator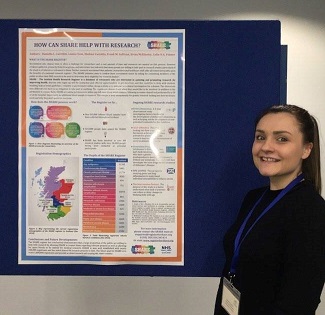 Daniella obtained her undergraduate degree, BSc (Hons) Neuroscience, in 2014 from the University of Dundee. Subsequently, she embarked on her PhD studies in the field of Diabetes Medicine with a specific focus on the links between Type 2 Diabetes and chronic inflammation which she was awarded in January 2019. Daniella is responsible for recruitment, administrative duties and public engagement within SHARE.
Nicola Liddell, SHARE administrator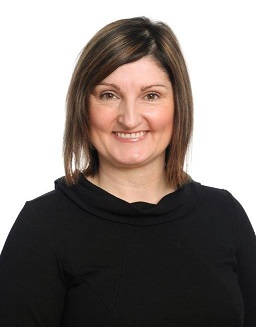 Nicola studied an HND in Business Studies with Languages at Napier University and has worked extensively in an administrative role over the last 20 years since. Her spare time is spent with her family and 2 teenage children who are both part of a local pipe band, so most weekends she can be found on a pipe band field somewhere across Scotland! Nicola is responsible for the HR and administration function within the SHARE team.