MONTHLY FEATURED PARTNER: SANON, the Scottish Adult Neuro-Oncology Network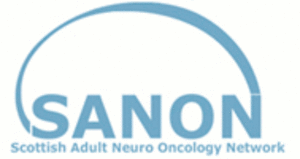 SANON, the Scottish Adult Neuro-Oncology Network, is one of the three National Managed Clinical Networks for Cancer in Scotland. The aim of the Network is to ensure equity of care for all patients in Scotland with brain and central nervous system cancer.
SANON was set up to encourage better coordination, collaboration and communication between the various disciplines which constitute the speciality of Neuro-Oncology across Scotland. The aim of SANON therefore is to link together health professionals, patients, their families/carers, voluntary sector representatives, external companies, universities and local councils to ensure the delivery of equitable, high quality, clinically effective care for patients diagnosed with brain and central nervous system tumours. By working to meet this aim we will be able to design and deliver the best service to patients and carers in Scotland.
Each site (Aberdeen, Dundee, Edinburgh and Glasgow) delivers Chemotherapy and Radiotherapy however only four deliver Neurosurgery.
SANON operates through a national meeting, a virtual Executive Board, a Supportive and Psychological Care Subgroup and leads for professions (e.g. radiology and topics such as research).
Research takes place in:
Dundee
Aberdeen
Edinburgh (Dr Robin Grant is the Clinical Research Lead for ENCO - Edinburgh Centre for Neuro-Oncology)
Inverness
Professor Anthony Chalmers is the lead for research and also chairs the Scottish Radiotherapy Research Forum (for all cancers).
Professor Adam Waldman (SINAPSE – Scottish Imaging Network – A Platform for Scientific Excellence) organises the Annual Neuro-Oncology Research Meeting and more details are available on the SINAPSE website.
SANON Clinical Lead: Mr Imran Liaquat, Consultant Neurosurgeon in Edinburgh
SANON Network Manager: Lindsay Campbell
SHARE partners and supporters
SHARE is part of NHS Research Scotland and funded by the Chief Scientist Office of Scottish Government. We work in close partnership with researchers across Scotland including those based in Scotland's Medical Schools, with academic partners including the Universities of Aberdeen, Dundee, Edinburgh, Glasgow, Highlands & Islands, St Andrews and Stirling.