How SHARE works for Researchers
What is SHARE?
The Scottish Health Research Register and Biobank (SHARE) is a database of willing volunteers (aged 11+) who consent to the access and use of their electronic health records in order to identify them as potentially eligible for research projects. In addition to the permission for contact, most participants give permission for any spare blood remaining after routine clinic tests, to be retained for anonymised genetic research. SHARE currently has over 300,000 registrants and can facilitate a wide range of research studies from a short questionnaire to recruitment for a drug trial.
Using our interactive Researcher Tool, search the register for real-time health information or alternatively have a look at our current Recruitment Data Tables to see if we have the number of volunteers you need for your study.
Whether you are looking for volunteers, samples and/or data for your study, fill out a FREE feasibility application or get in touch.
Professor Brian McKinstry, SHARE Director and Professor of Primary Care e-Health, University of Edinburgh and NHS Lothian, explains how the SHARE Register and Biobank can help you with recruitment, samples and data for your studies - watch his video on our YouTube channel.
How SHARE works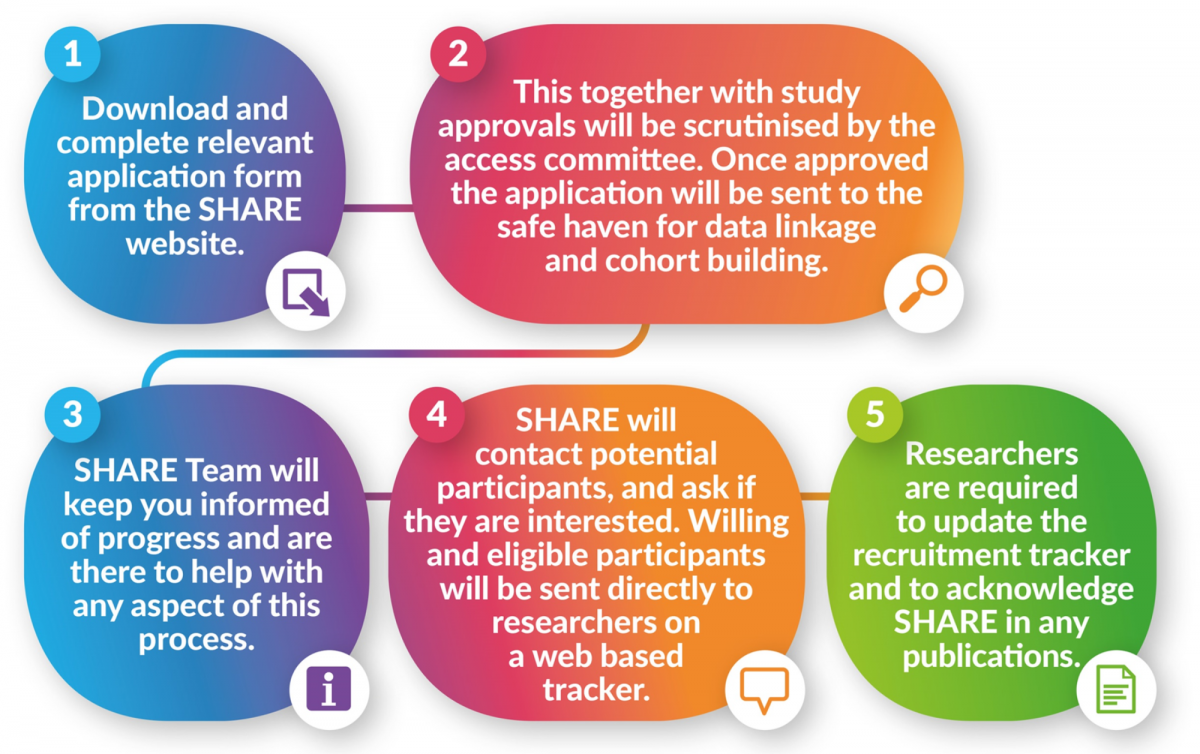 Use the public to help design your research project (PPI)
Public and patient involvement (PPI) is a way of making sure that the people who are most affected by your research have an opportunity to share their views of the research design, procedures and materials with the research team. SHARE can help find members of the public and patients to help with your study.
Complete a SHARE application and include details of the type of person you need for your PPI. Remember, specific ethical approval does not need to be sought when involving the public in research design and management activities - so you can use SHARE for PPI linked studies to the design of your research without the need for ethical approval.