Why I Shared
Why I shared: read the stories of those supporting health research
People join SHARE for many reasons but all want to play their part in delivering new treatments and developing better healthcare in Scotland.
All of these individuals have joined SHARE, agreed to provide secure access to their NHS records and for SHARE to contact them about possibly taking part in future relevant health studies. These people want to make a difference and know that only through ongoing medical research can we develop new treatments.
Many medical research studies need healthy people as well as people with particular conditions. So even if you are healthy you can make a vast contribution by joining SHARE.
If you want to help, click here to register. It only takes a minute to make a real difference.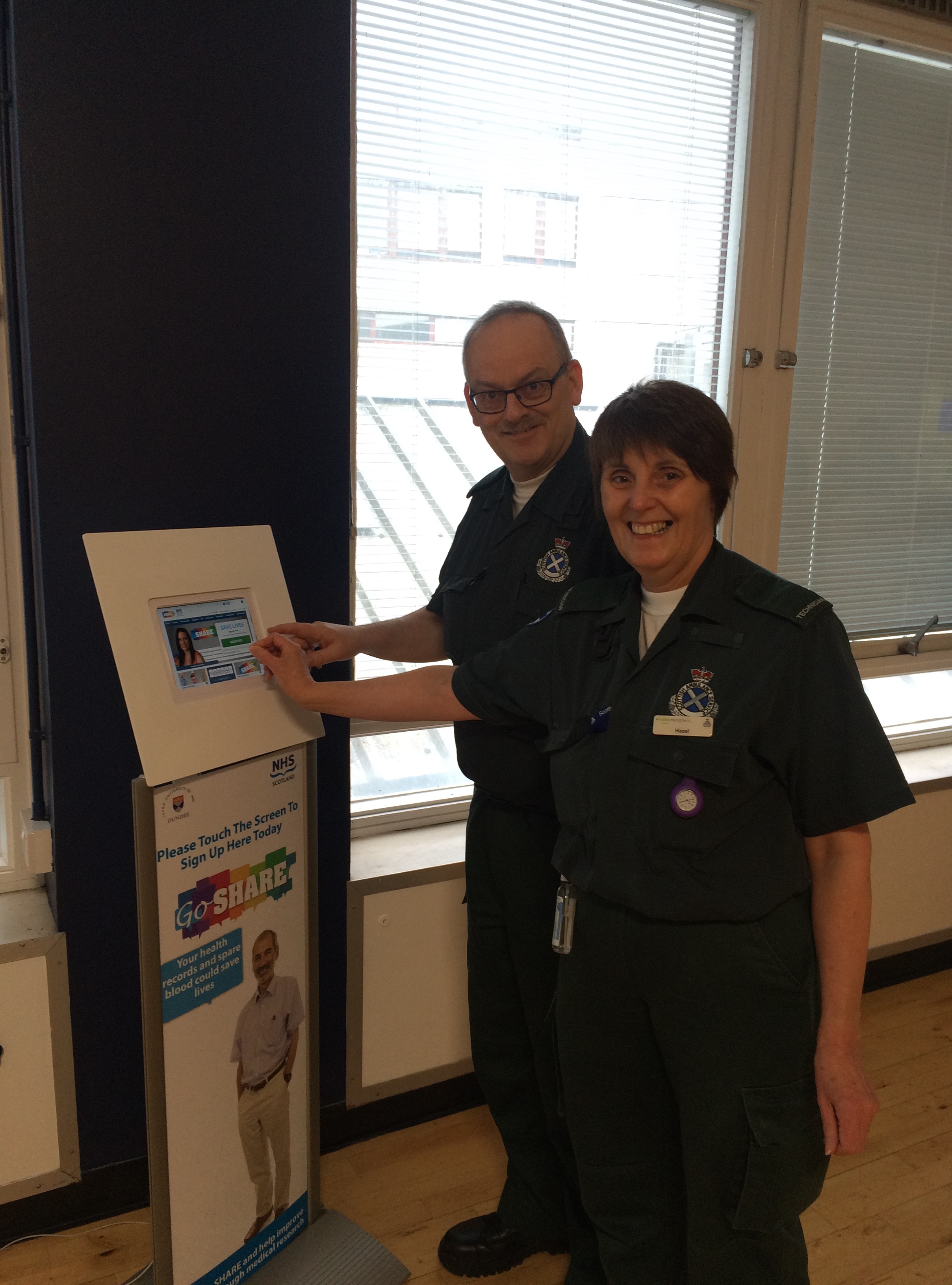 Why I SHARED - Brian & Hazel, Dundee
As recruiters working in clinics, our main role is to speak to patients about what SHARE is and ask if they would be interested in helping support health research in Scotland. Inevitably, this leads to a discussion with some as they tell us their own stories regarding their, or their family's health. Some of these stories are amazing and provide us with real insight as to why they want to register for SHARE. Without the fantastic doctors, nurses, researchers, technicians, participants and many others, we would not have the medications or treatments that are available to us today.
As part of our 100,000th registration celebrations, we wanted to highlight some stories of the people that we meet in clinics and why they registered for SHARE. The following narrative is from a married couple, living in Arbroath who both work for the Ambulance service. Brian is the Regional Head of Training for the North of Scotland and his wife, Hazel is a Technician within the service. Both of them suffer from different conditions, Brian's is hereditary and has affected other members of his family, whilst Hazel has relatives with different blood disorders. Brian explains below what made him register for SHARE.
"I am 57 years old and have worked within the ambulance service for over 32 years. I am keenly aware of the dedicated work involved in all realms of medical research and that access to samples is fundamental for research to progress for the benefit of all.
My family has suffered from Marfan syndrome and it is down to research that can bring benefit to future generations. On this occasion I am extremely happy to have been able to give consent for any remaining blood taken from me to be used in research."
Marfan syndrome is a disorder of the body's connective tissues, which are a group of tissues that maintain the structure of the body and support internal organs and other tissues. It is a hereditary condition and there is a one in two chance that the child of a person with Marfan syndrome will also have the syndrome. Some people are only mildly affected by ther condition whereas others develop more serious side effects, such as heart defects and lens dislocation in the eyes.
Hazel suffers from a condition called Neutropenia which isn't hereditary, but she does comment that there are a lot of blood related diseases in her family history. Neutropenia occurs when there is a low level of neutrophils, which are a type of white blood cells. Neutrophils help fight infection in the body which means that people with Neutropenia have a higher risk of developing serious infections.
Along with their own medical conditions, Hazel and Brian's sons both suffer from Von Willebrand disorder, which is one of the most common inherited bleeding disorders. People with this condition have a deficiency of a blood protein which means that their blood cannot clot properly and they are prone to prolonged bleeding. All of this played a role in Hazel's decision to register for SHARE, as she details below.
"I regularly have blood taken due to having Neutropenia, also my two sons have Von Willebrand disorder and my parents and grandparents have an extensive complicated medical family history.
Being in the ambulance service gives me an insight to many ailments and diseases, many of which can only benefit from research. To be contacted regarding SHARE whilst I was at Ninewells was good as I am extremely keen to assist by allowing any remaining blood from my samples to be used in medical research."
Both Brian and Hazel came along to our 100,000th registration event in Ninewells to help us celebrate and congratulate the SHARE team for reaching this milestone.
"Reaching 100,000 participants is a fantastic result, well done to the research team involved." Brian Glass.
"100,000 people willing to help is quite an achievement by the SHARE project team and I wish them well for future work in research and development." Hazel Glass.
We had a fantastic day at our event in Ninewells and are really grateful to both Hazel and Brian who took time out of their busy day to come along to support SHARE and also to share their own story as to why they registered. To register for SHARE and to help play your part in improving health research in Scotland click here.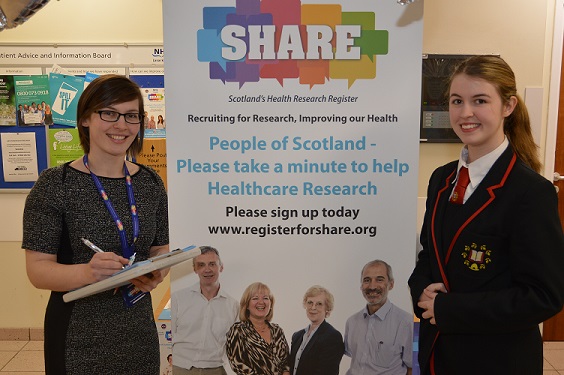 Why I SHARED - Rebecca, Coatbridge
Rebecca, aged 16, is a fifth year pupil, who signed up whilst visiting Wishaw General Hospital and explained below why she decided to register and help improve health research in Scotland
"Both my younger brother and I have severe and potentially life threatening allergies. It is only through research that the NHS can develop new treatments for conditions such as these."
SHARE is the largest register of volunteers in the UK and aims to make it easier for researchers to help carry out pioneering medical research. SHARE also seeks permission to use any leftover blood taken after routine clinical testing for research purposes. This use of 'spare blood' is ground-breaking and has never before been utilised by researchers.
Anyone over 11 can join the SHARE register, as confirmed by Rebecca from Coatbridge who wanted to help play her part in developing new treatments for a range of different diseases.