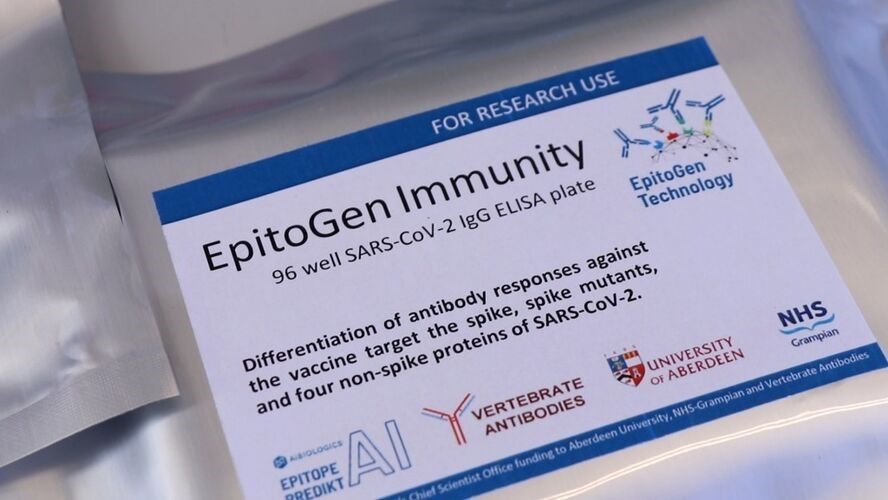 Spare blood samples from SHARE participants were a key part in the assay development for this COVID-19 project.
The University of Aberdeen, in collaboration with biotechnology group Vertebrate Antibodies Ltd and NHS Grampian, has developed an antibody test that can detect whether people have been exposed to new variants of Covid-19.
SHARE participants have helped this research project by consenting to the use of their leftover blood samples for analysis purposes. Samples from SHARE were a key part in the assay development for this project.
The new tests can detect antibody responses to infection by SARS-CoV-2 virus with more than 98% accuracy and 100% specificity. As a comparison, the currently available tests are 60-93% accurate and cannot differentiate unique variants.
Funded by the Scottish Government Chief Scientist Office Rapid Response in COVID-19 (RARC-19) research programme, the team used artificial intelligence called EpitopePredikt, to identify specific elements, or 'hot spots' of the virus that trigger the body's immune defence.
For the first time, the new tests can be used to estimate the prevalence of circulating variant strains in the community, including the variants first identified in Kent and in India, now known as the Alpha and Delta variants. The tests can also assess the long-term immunity of an individual and whether immunity is vaccine-induced or is a result of previous exposure to the infection – information that is invaluable in helping to prevent the spread of infection.
In addition to this, the tests can also provide information that can be used to estimate the duration of the immunity provided by the vaccine as well as the effectiveness of the vaccine on emerging variants.
This is an improvement on the currently available tests that struggle to detect variants and give little or no information on the impact of virus mutations on vaccine performance.
SHARE is a collaboration between the Universities of Scotland and Health Boards and is funded by the CSO.
If you would like to help with research projects like this one, please register for SHARE today:
Information and image taken from the original news article published on University of Aberdeen's website. For more information please visit https://www.abdn.ac.uk/news/15066/.