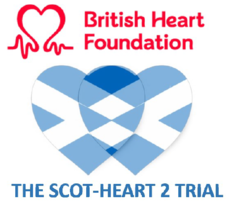 Researchers from NHS Lothian and Edinburgh University are looking for people to take part in a study which aims to determine the best way of preventing heart attacks.
Currently, doctors use a 'risk score' (or ASSIGN score) to help them decide who needs advice and medication to prevent heart attacks. Alternatively, it is possible to screen for heart disease using a specialised scan.
This study aims to compare the current standard of care, using the risk score approach, with a CT scan to look at the blood vessels of the heart.
If you are interested in taking part (and depending on your answers to the 3 questions below), the research team will invite you to an appointment at the Western General Hospital in Edinburgh. At the visit, you will have a medical review to see if you are suitable. If you are, you will be randomly assigned to receive either the 'risk score ASSIGN' approach or a CT scan of your heart.
If you are in the group assigned to the scan, you will have a further appointment, and this will be at Edinburgh Royal Infirmary.
You will be asked to complete a follow up questionnaire after 6 months and perhaps one further questionnaire at 2 years.
Reasonable travel expenses will be reimbursed.
For more information about this study please email [email protected].
If this study is not currently available in your health board area, please sign up to SHARE so we can contact you should the situation change in the future.
If this study is not suitable for you, please register for SHARE so that we can let you know about other studies which may be relevant to you.